Tess Gent writes
Saturday 16th June saw the return of Great Chishill's Midsummer Ball, raising money for St Swithun's Church. Months of what must have been very hard work by the organising committee culminated in a truly spectacular event, enjoyed by 250 friends and neighbours on a beautiful sunny evening.
Taking full advantage of the weather, welcome drinks were served on the playing fields as the guests arrived in an array of stunning black tie outfits – it turns out that we all scrub up rather well!
The party continued as we sat down to a delicious meal in the marquee adorned with fabulous tropical flowers, fruit and flamingoes. There was plenty more fun (and importantly, fund-raising) between courses with games, raffles and an auction of promises all featuring great prizes.
Having already eaten more than might seem prudent in our highly tailored outfits we then discovered the cheese and sweetie carts which were the perfect after-dinner treat. After posing for some quick pictures at the photo booth, live music from the wonderful band "Fred's House" lured us on to the dance floor where an energetic crowd remained until 2am!
Enormous thanks must of course go to the generosity of many local businesses who kindly sponsored the tables, the beer and the bar which contributed hugely to a fantastically successful evening.
Emily Hanson
was there with her camera - click on the centre picture below to see the pictures taken in the
'photo booth'
on the night and
here to see other photos from the ball.
(more to follow)
---
Mobile Phone Mast Proposal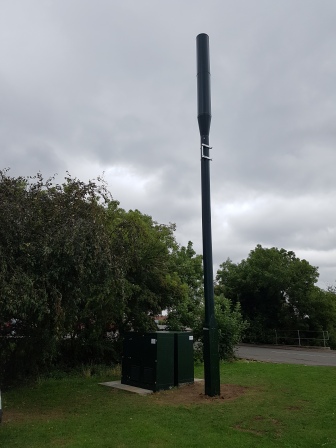 The Parish Council have received a letter from a company called Waldon who are proposing a telephone mast on Hall Lane and given until 20th June for comments! The Parish Council discussed this at their regular meeting on 21st June. See the PC website for more information. (
www.greatchishillPC.com
)send any comments to clerk@greatchishillpc.com or email the company directly.
Letter to PC
and
Details
.
---
St Swithuns Restoration - Update - June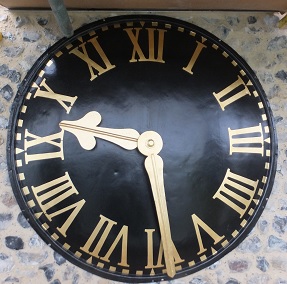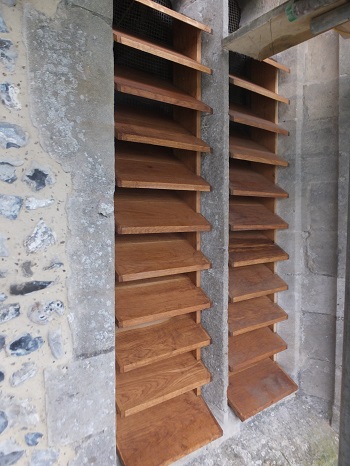 With the scaffold in place we took the opportunity to make other much needed repairs to the stonework and the louvres in the upper windows, where the wood was decaying and letting in water. The clock was taken out during the repairs, it is now back with new gilding, so after an absence of over 6 months we can hear its familiar chimes once more. The craftsmen have made 'eyebrows' above the clock face to prevent water running down the tower face and getting into the clock mechanism.
As the tower is being revealed you can see what an excellent job the builders have made. The scaffold is coming down, so is the project finished? Not quite yet…. the toilet in the tower needs completing, then next stage will be 'groundworks', digging up the churchyard to make connections for the new water supply and for the waste water for the toilet.
The road outside the church was reduced to one lane with traffic lights for a couple of days to access the mains water and sewer – apologies for any disruption - BUT unfortunately it was not possible to complete the works without closing the road completely! It is hoped that this will happen in early August.
Rainwater getting into the tower seems to be the main cause of all the damp and decay of the tower structure – plus using the wrong materials. So to make sure the tower stays dry in the future rainwater will be channelled away from the tower into a new soakaway.
Anything else? A new history and church guide has been written by our very own Dr Celina Fox, which will be published soon.
&nbsp
Click here to see pictures of the restoration in progress and the problem walls.

---
Windmill Cycling Club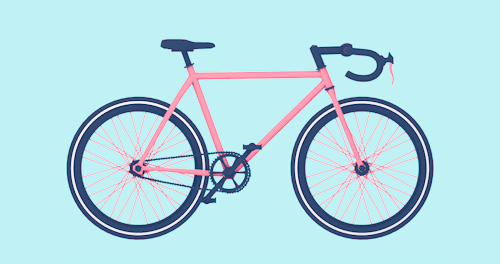 The Windmill Club is a Cycling UK affiliated group. The club is based at The Pheasant. Rides take place twice a week - approx. 20/25 miles on a Monday afternoon/evening and approx. 30/45 miles on Thursday mornings, usually in the lovely quiet lanes surrounding this area.
During the summer months rides sometimes start at locations in Suffolk or Norfolk and take in places such as Aldeburgh, Southwold or Wells. The pace is leisurely and there is as much focus on good companionship, conversation and coffee/pub stops as there is on cycling.
Each ride costs £3.00 and the proceeds are donated to various charities at the end of each year. So far, over £5,000 has been raised.
For more details of The Windmill Club's rides please take a
look at their blog.
New members are always welcome.
---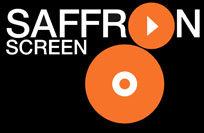 Saffron Screen
Saffron Screen is your not-for-profit independent community cinema based within Saffron Walden County High School. The professional auditorium boasts a full size screen, 200 cinema seats, Dolby Digital surround sound and both 35mm and digital projection equipment. Ticket and refreshment prices are kept low to benefit all and parking is free.
A Autism-friendly screening (No adverts or trailers, Low level lighting throughout the showing, Film sound at a consistently lower volume)
DDementia Friendly screening. (see cinema website for details)
s Subtitled &nbsp &nbsp &nbsp line Sold Out


B Baby friendly - Bring your baby (under 12 months) for a trip to the cinema without worrying about babysitters. There will be changing mats and a comfortable environment for new parents – and a certain amount of noise can be expected!

For full details see website www.saffronscreen.com
---
Saffron Hall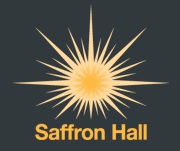 Saffron Hall is an exciting venture set up in the grounds of Saffron Walden County High School. The vision is to inspire through music and the arts. The impressive programme includes performances by the school's own ensembles and a host of well known British artists with international reputations.
Exceptional adjustable acoustics. Ample FREE parking.
| | | | |
| --- | --- | --- | --- |
| Triorca Orchestra | Triorca international youth orchestra is made up of the most talented young musicians from Norfolk, England; Vojvodina, Serbia and Rheinland-Pfalz, Germany. Under the baton of Nicholas Daniel, winner of the Queens medal for music in 2012, musicians from different cultural backgrounds learn together and from each other using the international language of music. | Sat 28th July | 7.30pm |
| Aurora Orchestra: Shostakovich 9th from Memory | Four years ago at the BBC Proms, Aurora became the first orchestra to perform a symphony from memory, without the aid of printed sheet music. Since then the orchestra has electrified audiences around the world with this direct and communicative performance style. | Sat 4th August | 7.30pm |
SWCHS Event = School performers
www.saffronhall.com Box office 0845 548 7650
---
Royston Cinema
The Royston Picture Palace is a community cinema run by the people of Royston and surrounding villages. Although staffed by volunteers, the audience will experience state-of-the-art digital projection onto a 7m screen supported by a 17 speaker digital sound system. The cinema is located in Royston Town Hall, which has undergone a complete refurbishment in preparation for its new role in the community.
Currently films are shown on Fridays and Saturdays.
| | | | |
| --- | --- | --- | --- |
| The Happy Prince | 15 | Fri 20th July | 7.30pm |
| The Bookshop | TBC | Sat 28th July | 7.30pm |
| Swimming with Men | 12A | Sat 4th August | 7.30pm |
Complete Diary available here
---
Bin Collections

Tuesdays unless otherwise marked
24/07/18:Green Bin and Blue Bin
31/07/18: Black Bin
07/08/18:Green Bin and Blue Bin
14/08/18: Black Bin


Not sure what you can recycle? Click here to see the SCDC quick guide.
---
Thriplow Dump


Gravel Pit Hill, Thriplow, Cambridgeshire SG8 7HZ
Tel: (01223) 839001
Opening hours:
8am to 5pm Every day including Bank Holidays, 1st April to 30th September

---
Fancy a Walk?

Circular Walks from Great Chishill 13.3Km
8.9km
7.4Km
or
4.5Km
or, if you want to go further afield, Walking in Essex More than 50 FREE walks to download, details of all the books, maps and walking groups in the county.